Golf Packages in Scotland
Golfinfoscotland.com makes it easier to book your golf in Scotland.
We have provided easy access to hotels, resorts and guest houses who offer golf packages all throughout Scotland.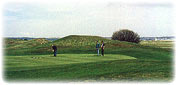 Included in most golf packages are pre-booked tee-
times, discounted green fees and accommodation.
Sometimes meals and
transport are also included.
The managers of hotels, resorts and
guest houses have
local knowledge and good contact
with various golf clubs
and will help make sure your trip is a success.